According to an O'Connor ratio analysis, the median time-adjusted sales price for the typical home in Gwinnett County, Georgia is $370,000, but the median appraised value is $378,700, which is $8,700 more than the market price. This means the average Gwinnett County residential property is overvalued by 2.7%. The analysis contrasts the time-adjusted sales price and the 2023 value determined by the county tax assessor for Gwinnett County.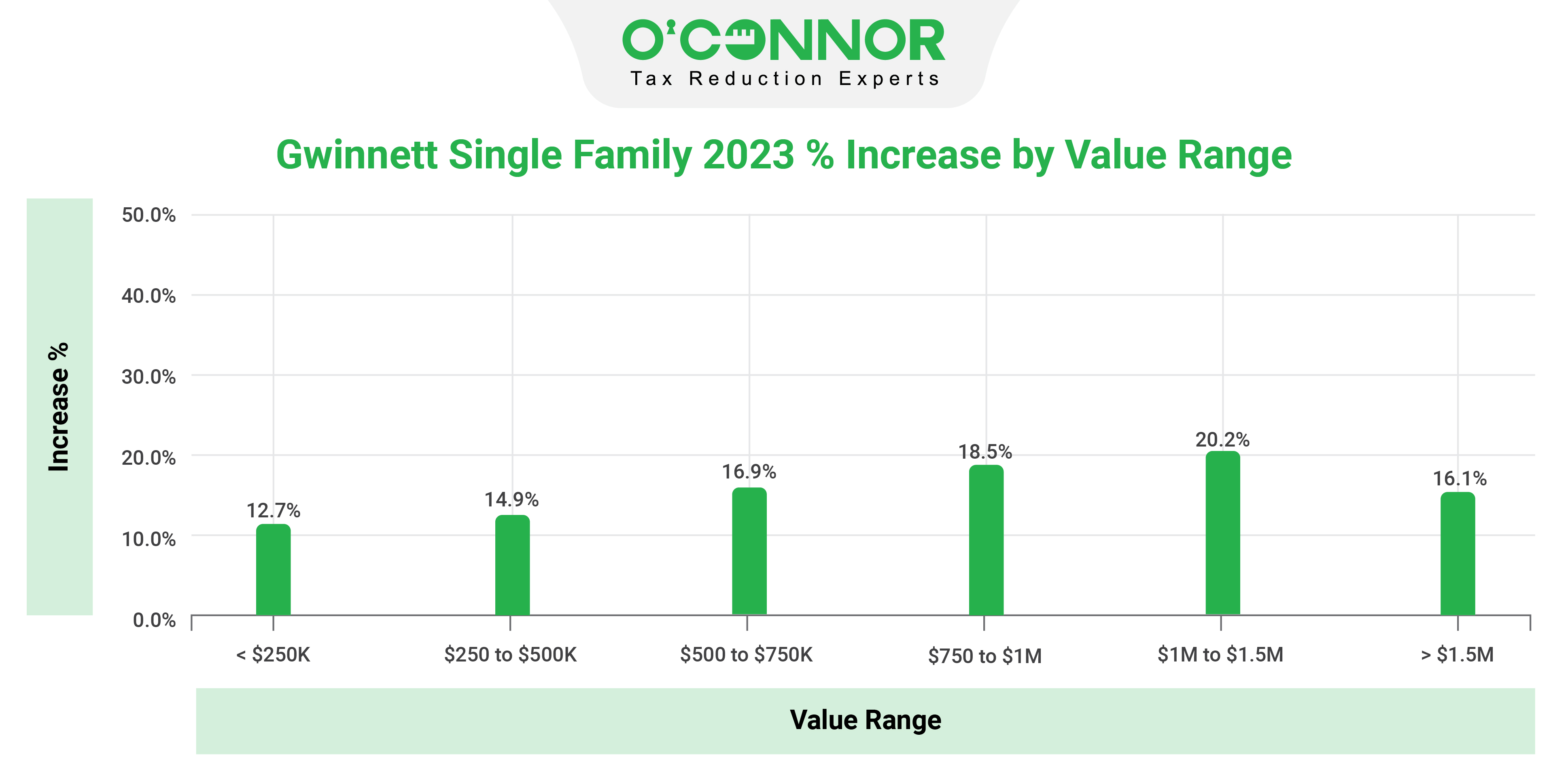 A typical home in Gwinnett County has increased in appraisal by 15.6%, however, homes in the $1M to $1.5 M range have been hit harder with values bumping up by 20.2%. Houses in the $750K to $1M range are also feeling a sting with appraisals 18.5% higher for 2023.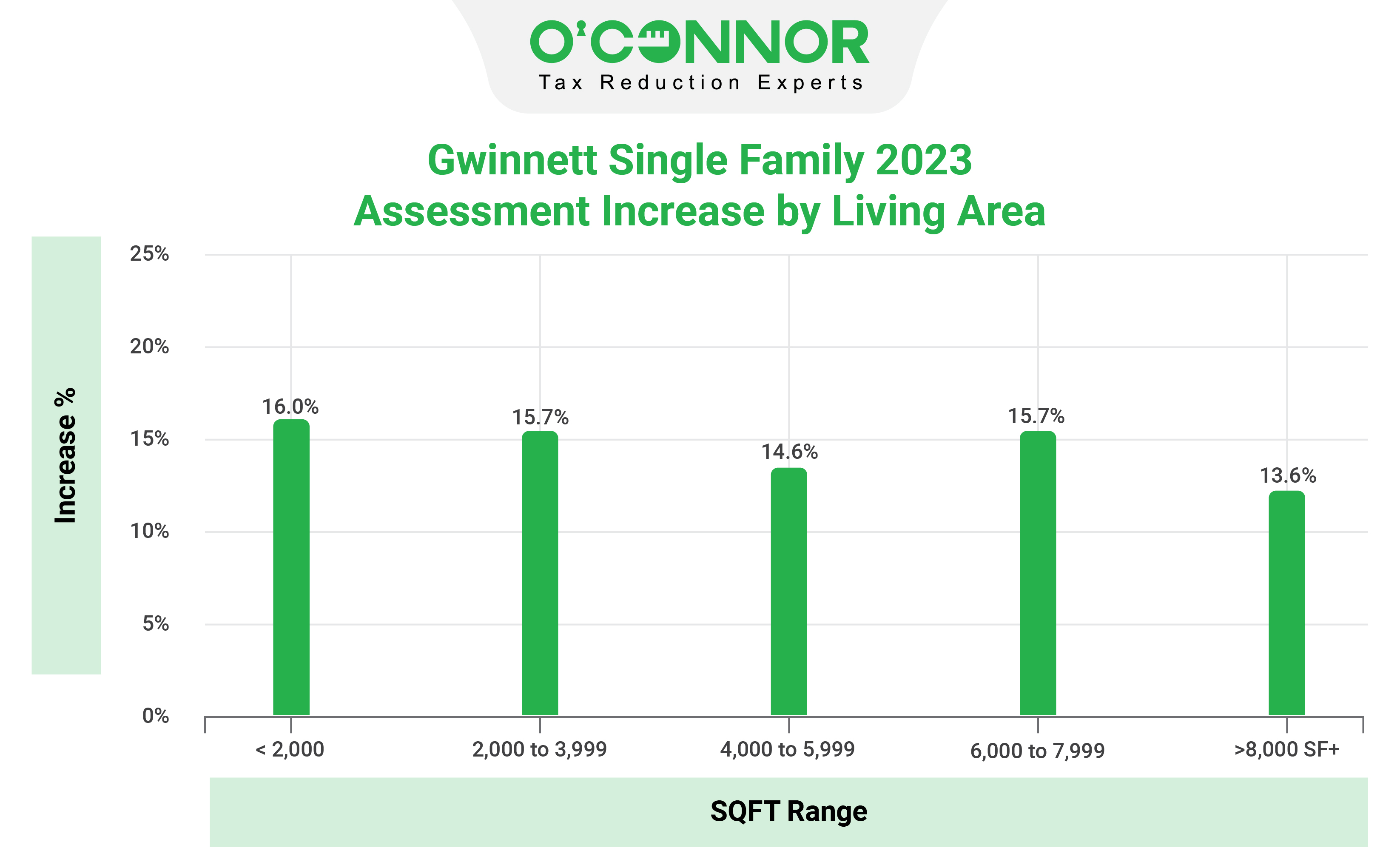 Gwinnett appraisals for single-family properties have grown by double digits across all size homes. Properties under 2,000 square feet had a 16% property tax appraisal rise, while properties above 8,000 square feet saw a 13.6% increase.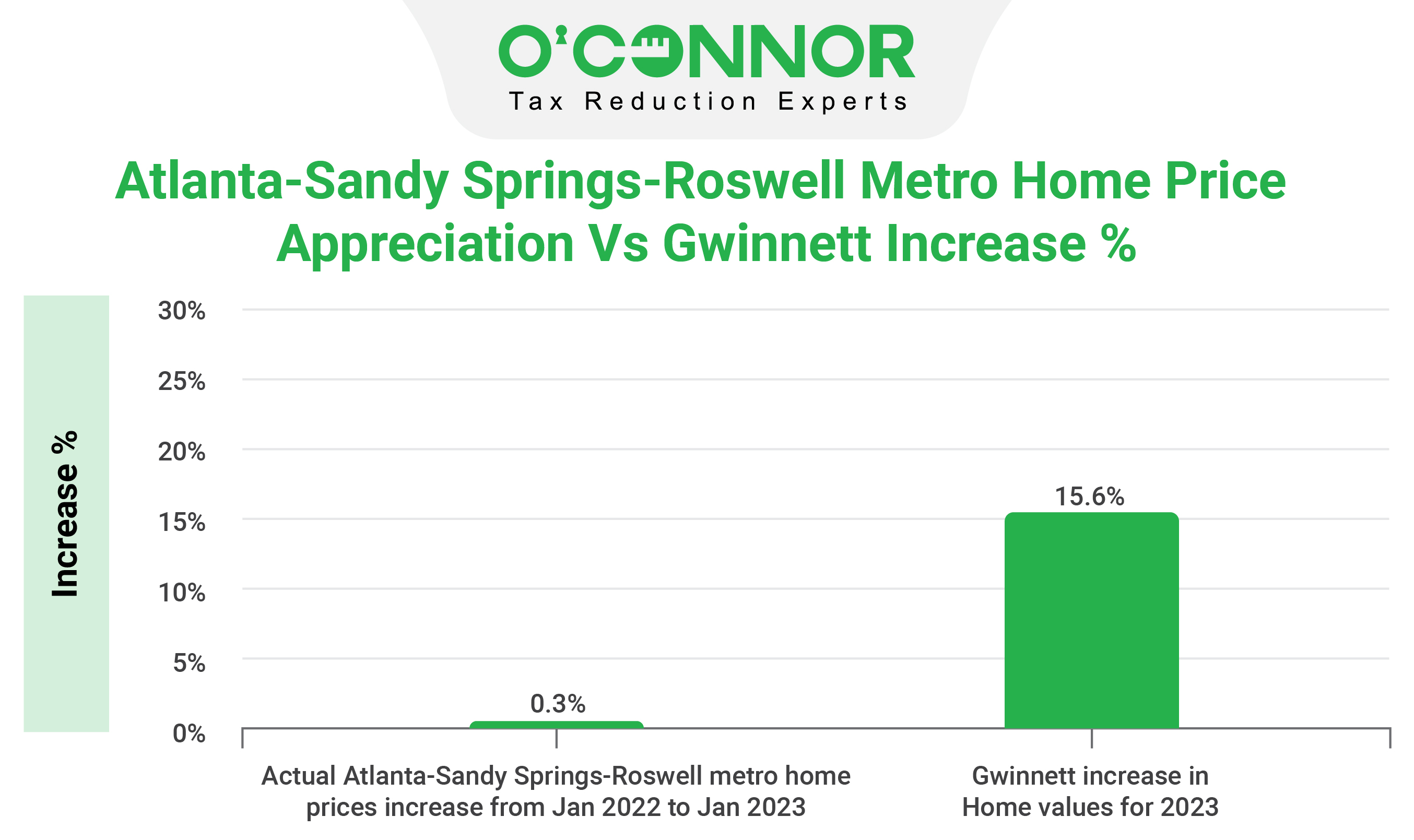 Home price growth in comparison to increases in property taxes.
According to the Atlanta, Sandy Springs, and Roswell Metro sales price data, home values rose by 0.30% while property tax appraisals rose by 15%. Simply put, metro area sales were only up by a fraction of a percentage point while assessments hiked upward.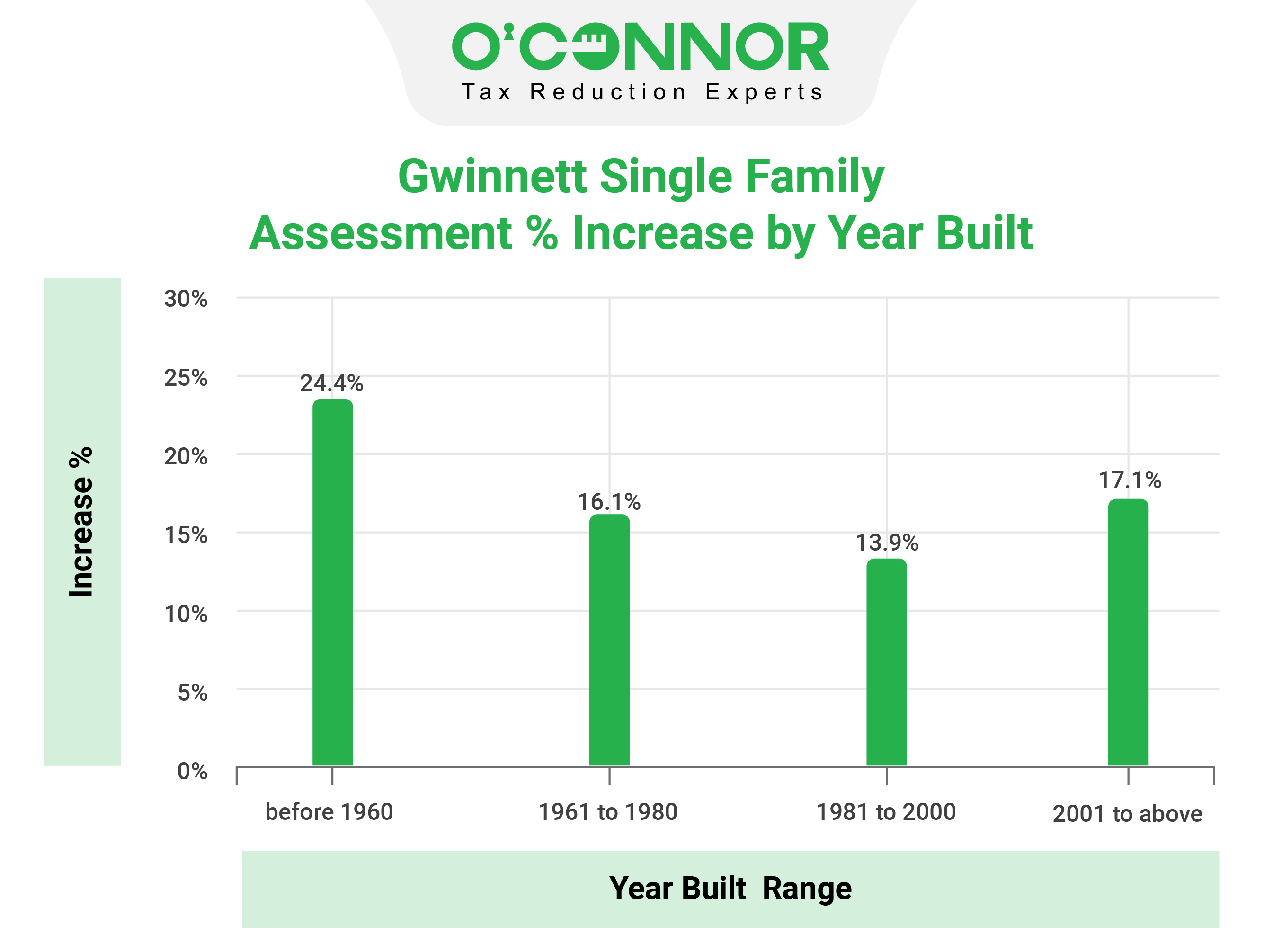 2023 Gwinnett County appraisals grew the most for homes constructed before 1960, where values swelled 24.4%. For single-family residences constructed between 1981 and 2000 were the least impacted by rising appraised values, but still averaged a 13.9% increase.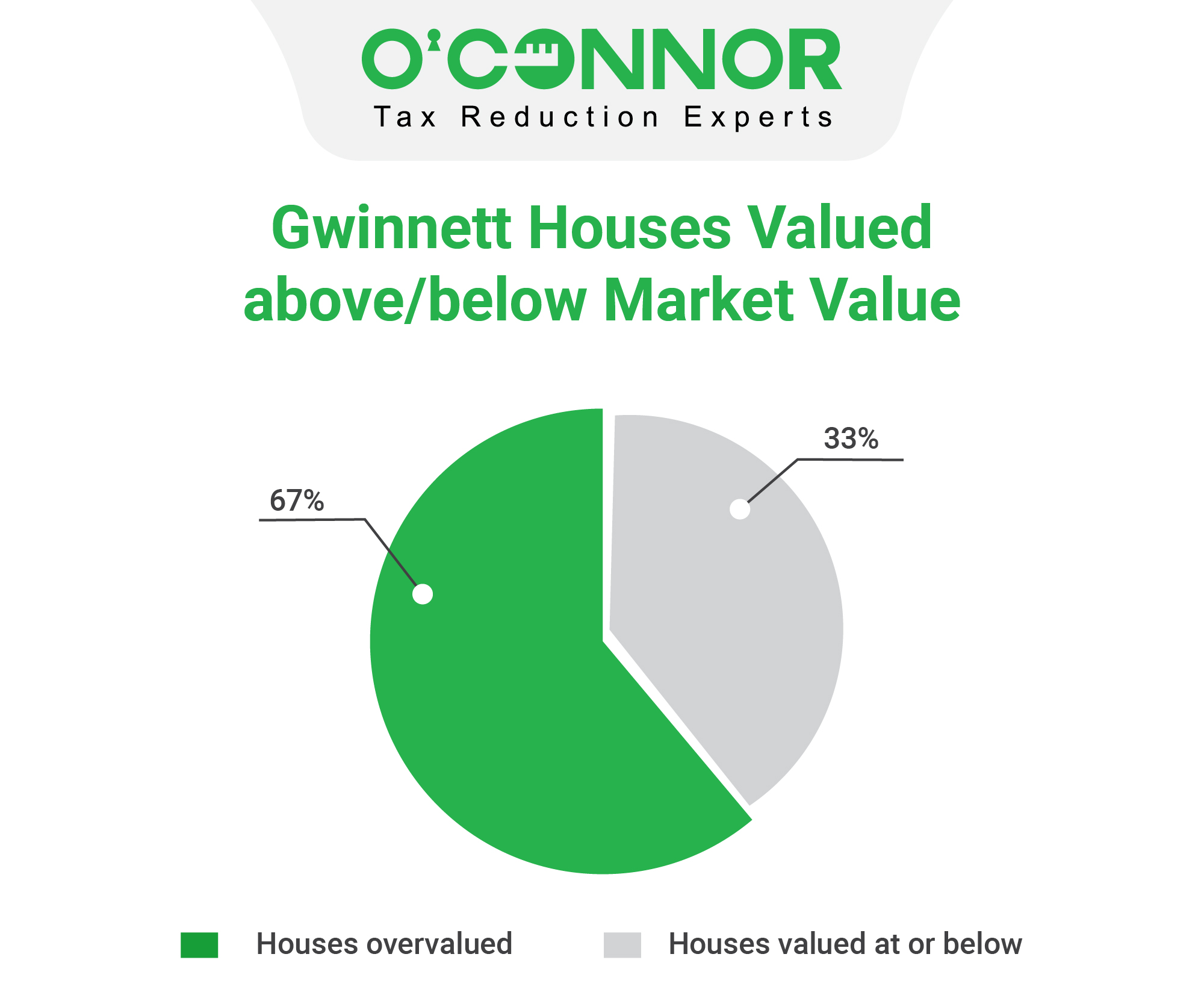 The chart below compares homes in Gwinnett County with taxable values higher than their market values to those with lower values. Nearly two-thirds, or 67% of homes in Gwinnett County were overpriced while being 33% of homes were under market value.
The Gwinnett County Tax Assessor faces the daunting task of valuing homes across the county. It is the property owners responsibility to examine and their right to appeal. In 2023, when home values have gone up by more than an average of 15% and two-thirds are above market value, it's worth taking a second look.