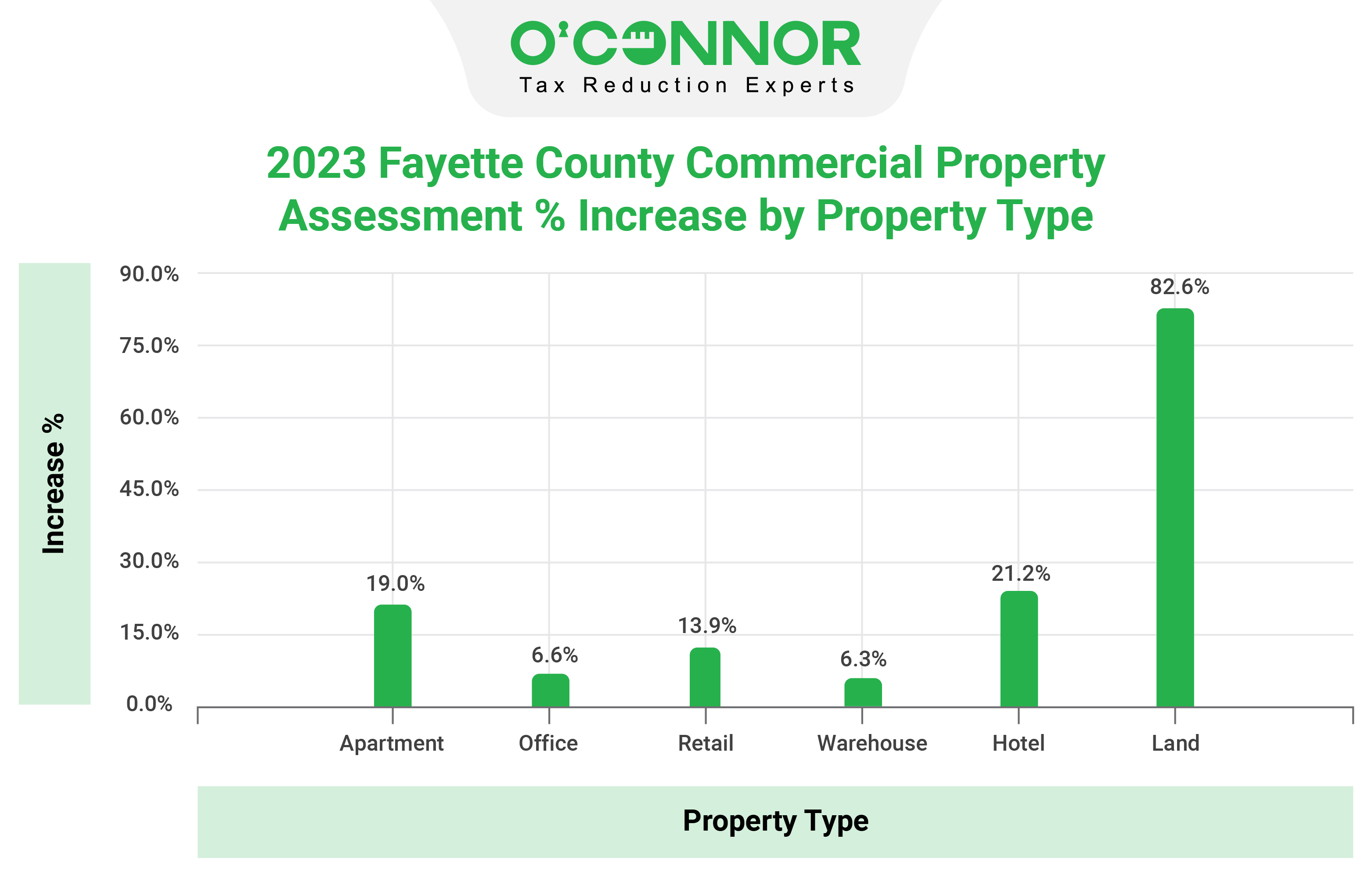 Property tax assessments for commercial property owners in Fayette for 2023 were 15.8% higher than 2022. The biggest hikes in 2023 went to hotels and landowners; both were over 20%. Land assessments for property taxes rose 82.6% in a single year, from $95.4 million in 2022 to $174.2 million in 2023. Fayette's property tax assessments for hotels rose from $49.6 million in 2022 to $60.1 million in 2023, a 21.2% increase. In Fayette County, the total value of commercial property climbed from $1.68 billion in 2022 to $ 1.94 billion in 2023. Apartments, offices, shops, warehouses, hotels, and land are included in these property types.
O'Connor, who is among the nation's largest property tax consultants, studied data provided by Fayette County, GA to develop this analysis.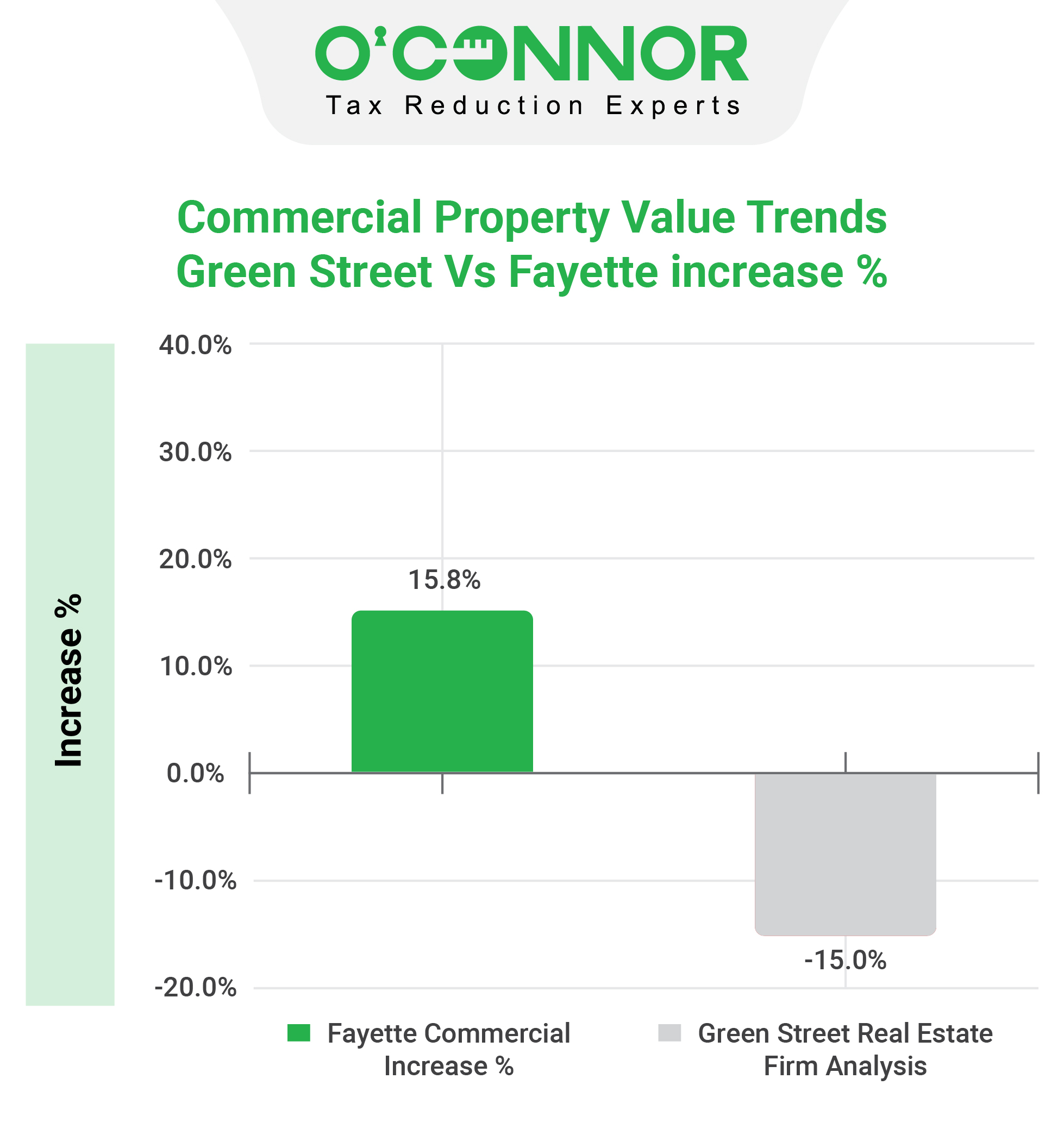 Comparing Fayette County commercial increase to the analysis of the Green Street real estate firm. Commercial property value trends, according to Green Street, are 15% lower for 2023, while there is a 15.8% Fayette County Tax Assessor assessment rise, creating a disparity of over 30 points between the two values.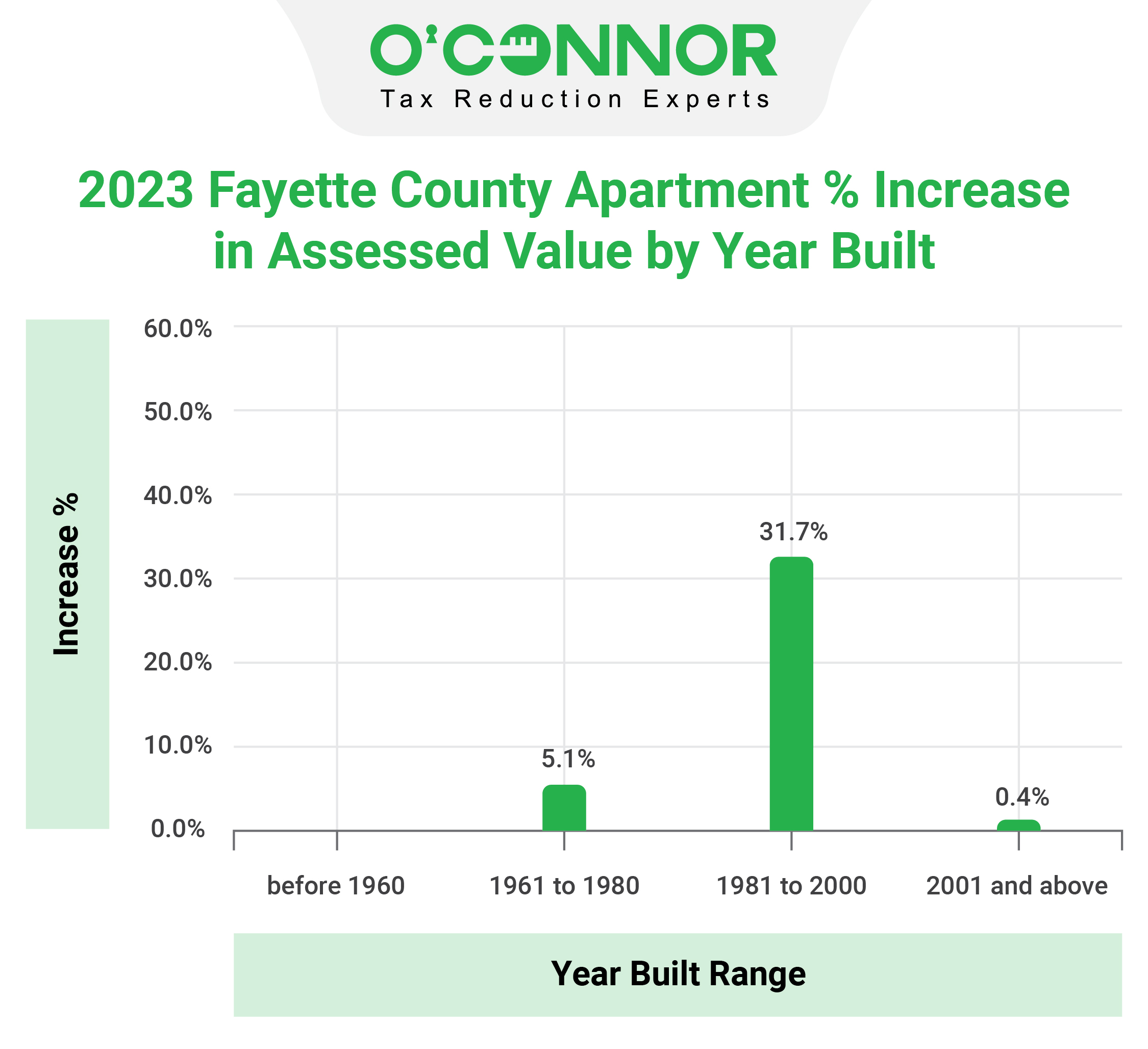 Apartments built between 1961 and 1980 and 1981 to 2000 saw the biggest increases in valuation. In 2023, assessments for apartments in Fayette County constructed between 1981 and 2000 increased by 31.7%, but not for those constructed before 1960. When considering apartment property in general there is an average increase of 19%.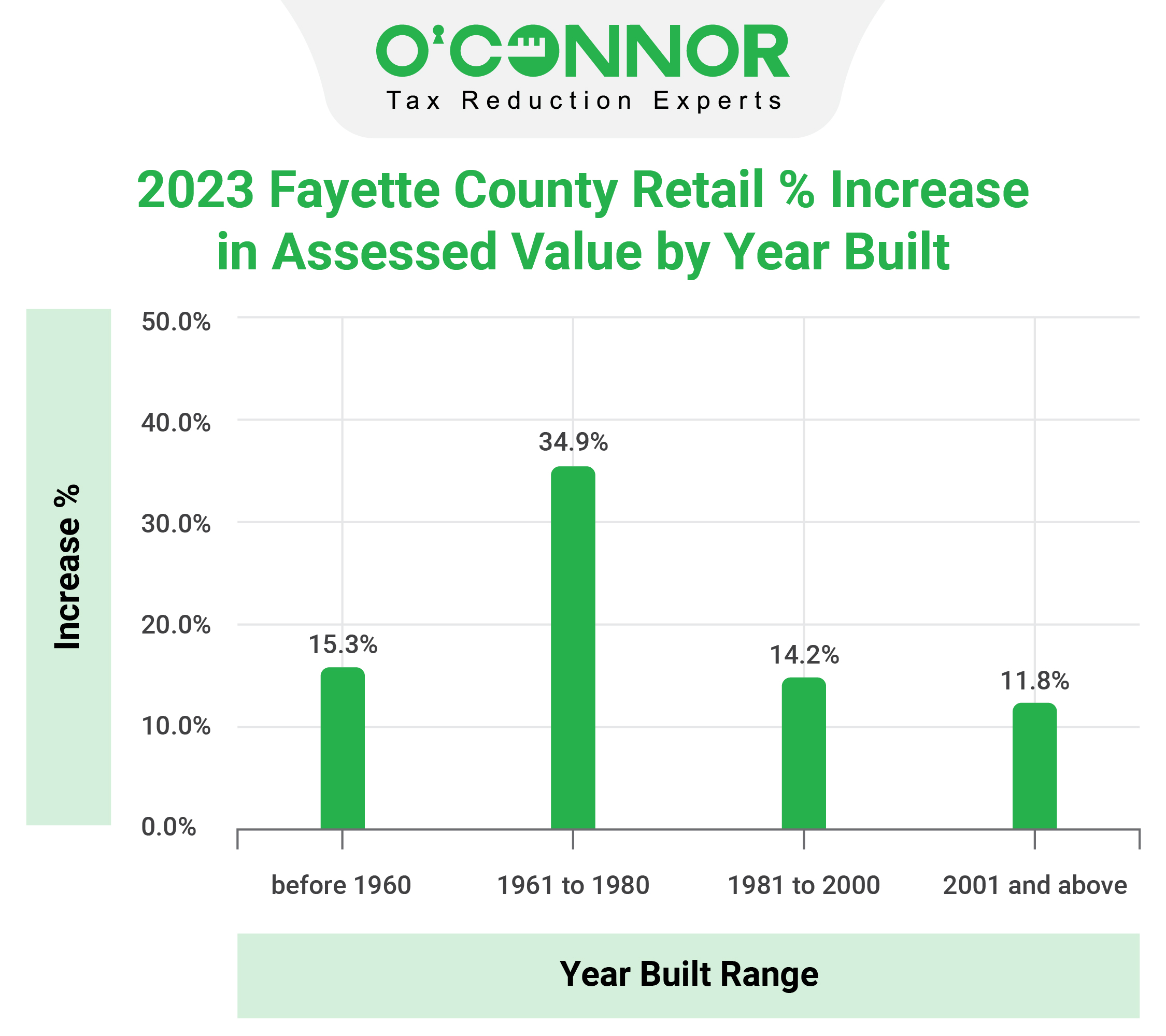 In Fayette County, the tax assessment for retail structures climbed by 13.9% for 2023. In 2022, market value for property constructed between 1961 and 1980 totaled $25 million. The 2023 total market value for this same retail age range has swelled to over $34.5 million, an increase of almost 35%.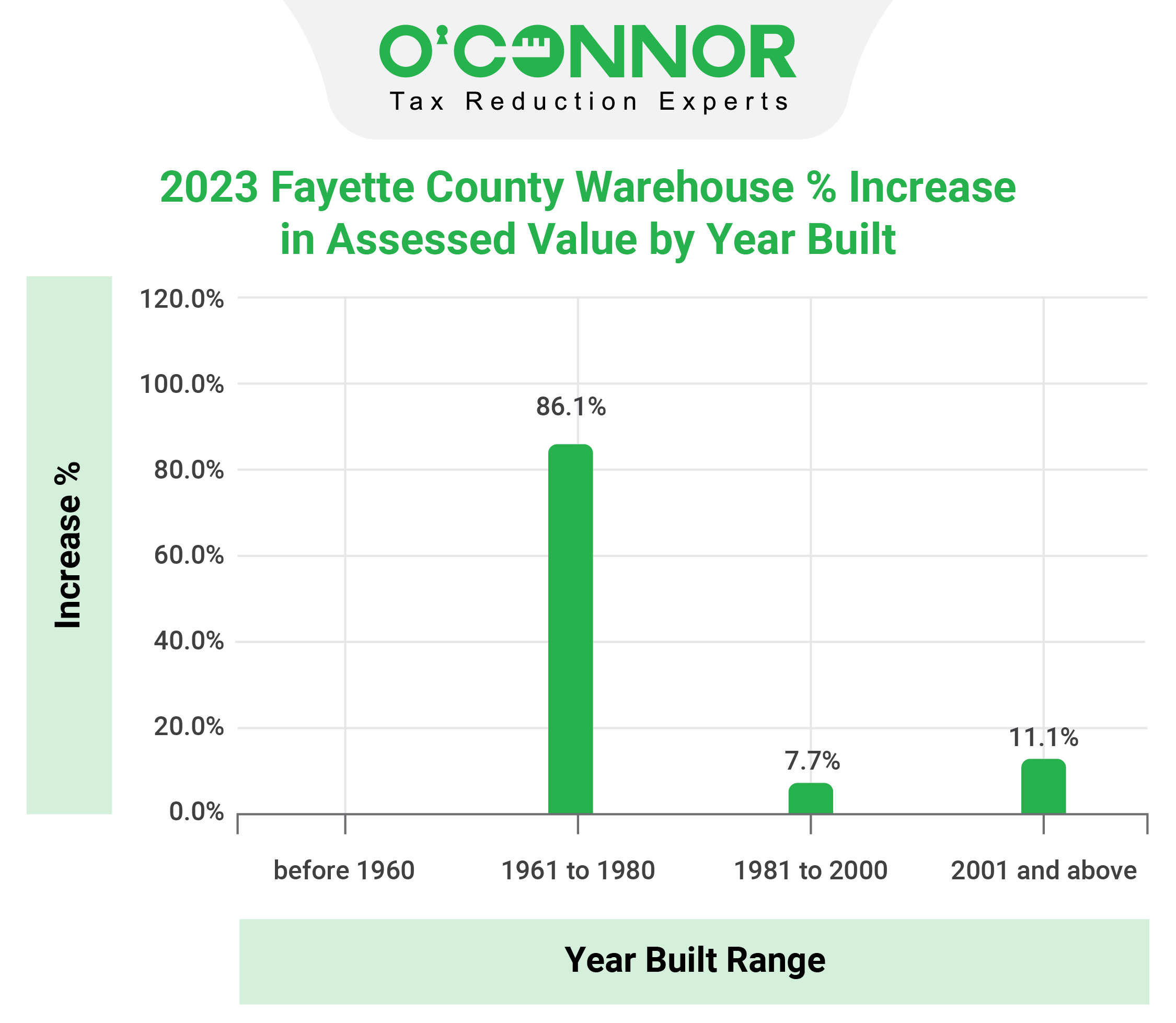 Based on the Fayette County Tax Assessor values, warehouses went up in value by 18.8%. However, for property built between 1961 and 1980, the assessed value of warehouses climbed by 86.1%, and for those constructed from 1981 to 2000 and beyond, it increased by 7.7%. There was no assessment increase for warehouses built before 1960, however, there was an 11.1% rise for those built after 2001.
Property owners in Fayette County are urged to consider contesting their property tax assessment every year, especially in years when values are reassessed. The valuation staff for the assessor works arduously to appraise property fairly and accurately, but with such massive numbers to value there is room for miscalculation.